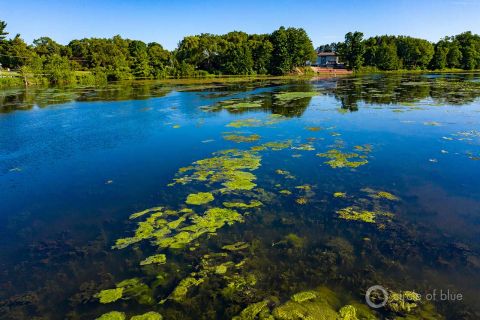 A Michigan county tells the story of a nation plagued by water pollution
Agriculture: Industry or family business?
Matt Cary is a third generation farmer at Cary Pioneer Farms, which started out as a small farm. Over the generations, the family acquired more land, turning the farm into a full-scale operation, growing crops on 4,100 acres and raising over 2,000 cattle each year, earning it CAFO status. .
Cary, who now runs the business alongside his father and brother, owes most of his success to his grandfather, who started the farm in 1944 and was what Cary described as nothing less than a "visionary" who was ahead of the curve on more recent sustainability measures like soil testing and spot manure spreading.
Farming is in the blood of the family, said Cary, who has worked on the farm since he was 16. "I couldn't imagine any other way of life," he said, concluding that ultimately they "have a big family farm."
This echoes the Farm Bureau's position. "Licensed cattle is not a huge, soulless industry," Campbell wrote in an email. "Our licensed farms are family businesses, just like small farms."
Keeton disagrees. "The regulations that these feedlots have to deal with are very different from what most industries have to deal with," he said, adding that any farm with thousands of animals is "an industry and has to be treated as such".
Regulations for CAFOs in Michigan are different from those for small farms. The license for CAFOs includes rules about when a farmer is allowed to apply manure and fertilizer to frozen ground and how much manure and fertilizer they are allowed to apply to agricultural fields.
The new permit, revised this year, prohibits spreading on frozen ground and considerably limits spreading on fields. He is actually challenged by groups like the Michigan Farm Bureau. They, along with six other agriculture advocacy groups and more than 160 farms, submitted a petition at the end of May this year, arguing that the regulations override EGLE's regulatory authority. Until a decision on the new permit is made, the 2015 regulations will still apply.
Campbell said the Michigan Farm Bureau believes the permit requirements are, at the very least, barely backed by science and the costs of updating the new standards could cause some farms to shut down entirely.
Cary shared the Farm Bureau's concerns. "I'll be the first to tell you that regulation is not a bad thing, because there are people who need to push a little more than others," he said. But when such strict regulations are imposed, it leaves little time for farmers to prepare for the change, he said.
Cary said he's worried about the future of farming, but he's also worried about the environment. "It's really important to us to manage our operation for the future of our children and our community," he said. "But we are like everyone else. We're trying to raise a family and we all drink the same water.
Bruce Washburn, an environmental quality specialist with EGLE's water resources division, told Circle of Blue that the regulations are intended to minimize pollution in waterways like Saginaw Bay, in which the Pine River eventually empties.
Borello and other environmental groups argue that the permit does not go far enough to protect Michigan's waterways. However, neither he nor Keeton blames the farmers. "We are convinced that regulation is the problem," Keeton said.
Borrello does not anticipate that lawmakers – from any party – will take action to reduce agricultural pollution. "I have no confidence that anyone, Democrat, Republican, Independent, Governor, Attorney General," he said, "has the slightest desire to do anything positive related to protecting our water against agricultural impact".
The role of CAFOs in the national food system is even questioned. In late 2019, Senator Cory Booker (D-NJ) introduced the Farm System Reform Act, which would eliminate CAFOs entirely by 2040. The bill won the support of fellow Democrats Bernie Sanders and Elizabeth Warren, but he did not leave the committee.
What little faith he has left, Borrello puts into the next generation. "The only hope I have is that young people start voting and asking questions that specifically say, 'If we vote for you, are you going to change the way agriculture is regulated?'"
Farms that started small, like the Cary's, "want to be good stewards," Borrello said. "I think they do everything to the letter of the law. And the law simply does not protect the environment.