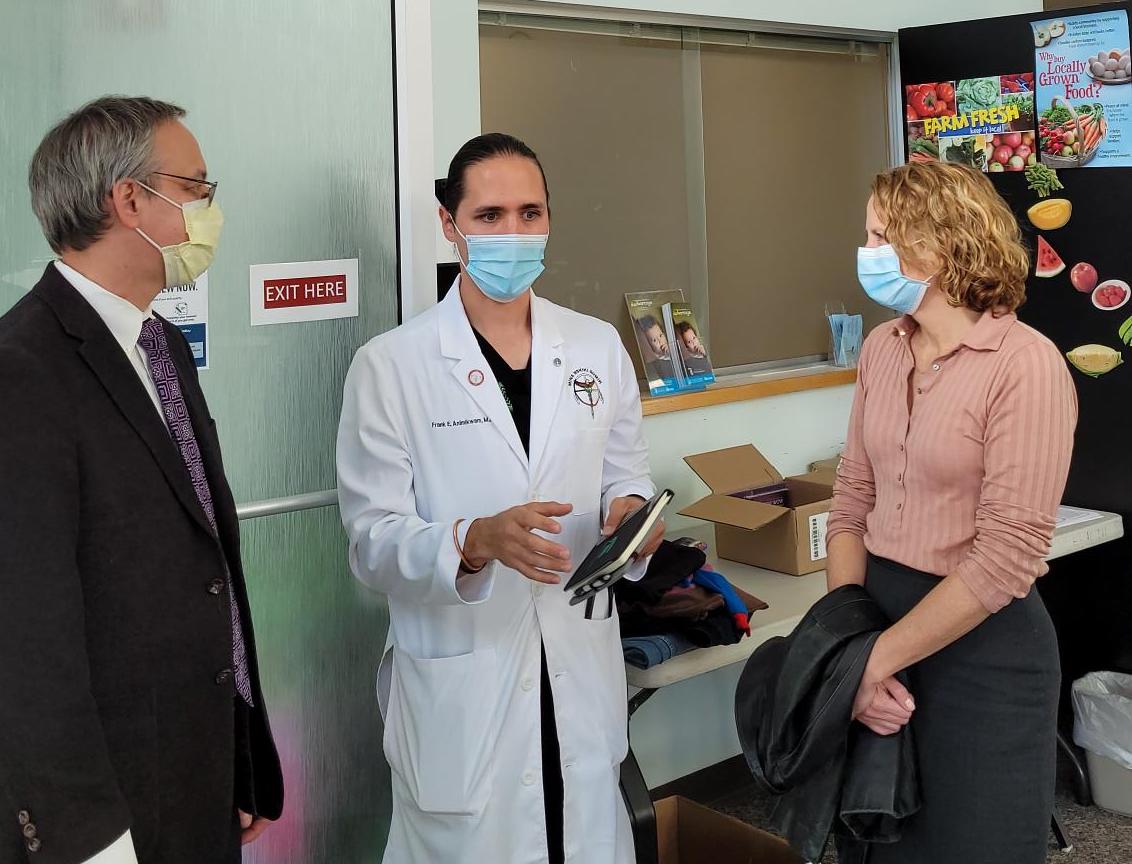 Dean's Update: October 14, 2022 | College of Human Medicine
October 14, 2022 – Aron Sousa, MD
Friends,
The news of President Stanley's resignation saddened me but also encouraged me by his example of integrity, accomplishment, and dedication to the principles that have made American higher education the envy of the world. Of course, his video message for us was the announcement of his decision, but above all, it was also a call to continue the excellent work of the past three years. His message was clear at the end, Spartans Will… indeed, we will.
In this spirit…. This week I visited Petoskey and Traverse City. I had the chance to meet our students, some of whom were in town and others in their rural communities. Their commitment, talent and dedication are always energizing! Our cheerful group of Jerry Kooiman, Andrea Wendling, MD, and Stephanie Stotenbur, met with donors, hospital partners, researchers, internship directors, campus staff, community partners, and alumni.
I always learn more about our communities on my visits, but this time the visit changed my brain in a big way. More on that in a moment. On this trip, I specifically wanted to catch up with Frank Animikwam, MD (CHM '17), who accompanied me as a third-year internal medicine student. Dr Animikwam went on to do his family medicine residency at Sparrow and is now the medical director of the health clinic of the Small Traverse Bay Bands of Odawa Indians (LTBB). The clinic provides medical care, dental care, mental health care as well as traditional care. I have been so impressed with the clinic, the work that Frank and his colleagues do, and the systematic approach the tribe takes to health.
Careful readers of the update will note that the college is making a thoughtful and concerted effort to engage and partner with Indigenous groups across the state. In August, we announced an agreement with Bay Mills Community College, creating a bridge between the tribal college and medical school. Andrea and Liz Lyons, Ed.D, spoke with Dr. Animikwam about pathways and clinical opportunities designed to support Indigenous medical students and young students interested in medicine. We aim to be thoughtful, helpful and collaborative.
After the clinic tour, Frank told us about the trauma the local boarding school has inflicted on its people, its patients. I have known for a long time boarding schools in canada and their design to suppress and erase tribal language and culture. Somehow I had missed that the same boarding schools existed in Michigan. In fact, just north of Petoskey, in the heart of the LTBB's homelands, specifically in Harbor Springs, the Holy Childhood of Jesus School (also called Holy Childhood of Jesus Indian Industrial School) began in the early 1800s, closed for a time, and returned in the 1880s. The school was run by the Catholic Church and often funded by the federal government because a "boarding school in which children could be kept all year round, free from immoral influences, had long been felt as a necessity." Of course, the "immoral influences" from which the children were protected included the children's parents and their language, the elders and their councils, the tribe and its culture.
As in Canada, the purpose of boarding schools was to remove anything indian about indians. The school continued to operate until 1983. Following the discovery of mass graves in the Canadian residential schools, we all you have to wonder what you would find with a dedicated search of US boarding schools including the Harbor Springs site. So far the diocese did not allow for the sophisticated research that has been done in Canada.
This week started with Indigenous Peoples Day, which I hope we will all take as an opportunity to be curious and interested in the history and lives of our neighbors from the native tribes. It turns out that this is not a distant story – the peers of people in their 40s and older were in this boarding school. Our colleagues, Dr. Animikwam and his team, help their patients find health and hope amid trauma and reminders in the community. Even from a distance, through work to support students, who in turn serve people, or through engagement with community partnerships, or through advocacy and science for health, we are and always will be a force. for good… indeed we will .
Serve people with you,
Arron
Aron Sousa, MD FACP
Dean
---
Archives:
Dean's Update town halls