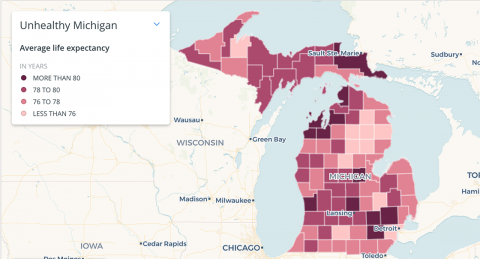 How healthy is your county in Michigan? Use this map to find out.
In affluent places like Ann Arbor and Leelanau County, residents live longer and healthier lives than their counterparts in cities and rural communities. But not all rural areas are in poor health: life expectancy in much of the Upper Peninsula, for example, exceeds state averages.
The difference, in many cases: education.
About 72% of adults in Midland County have attended college, above the statewide average of 67%. In County Clare, just 54% had, one of the lowest rates in the state.
Michigan's life expectancy is 78.1 years, and counties that exceed this average are spread across the state, from Oakland, Livingston, and Washtenaw counties in southeastern Michigan to Clinton County in the central part of the state; Ottawa County to the west; and several in the northern Lower Peninsula and eastern Upper Peninsula.
There are commonalities: most of these counties have residents who are more physically active, smoke less, and have a lower prevalence of obesity. But others point to differences even within counties.
In County Antrim northwest of Grand Traverse, where residents can expect to be in their 80s, there are two populations: the wealthy who moved to retire to Lake Michigan and Lake Torch, and the longtime native residents.
Dr. Andrea Wendling, family physician in nearby Boyne City and principal of Michigan State University Rural Health Curriculum, said they had different behaviors and outcomes: The long-established, less-educated population struggles with health, much like their peers across the state.
Finding a concrete model that could lead to a simple solution to extending life is difficult, Wendling said. Although adding more doctors could work in Clare, the solution in Flint or Detroit is much more complicated – residents of these cities have access to nearby hospitals, but for reasons of poverty, violence and other factors, they also tend to have poor health outcomes.
"The basic health issues are the same (statewide)," Wendling said. "The problem is that the challenges to solving these problems are different."
Use this map to see how counties differ in a host of health factors, from their health-related behaviors, to access to care, to outcomes like diabetes and premature death.