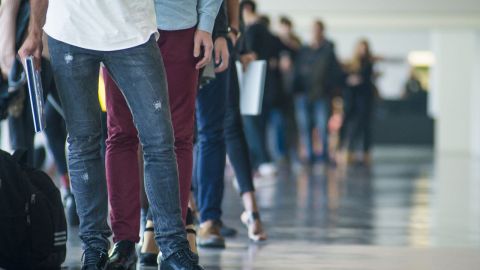 Michigan and the United States set records for weekly jobless claims
LANSING — Michigan and the United States set records for unemployment insurance claims last week as the global coronavirus pandemic caused a spike in business closures and wreaked havoc on the economy.
In Michigan, 129,298 residents filed initial claims for the week ending Saturday, up more than 2,300% from the 5,338 filed the previous week, according to new figures released Thursday by the US Department of Labor.
That total surpassed the state's previous record of 108,572 new claims in July 1992 and was higher than in any week of the Great Recession. The jump followed Governor Gretchen Whitmer's order closing restaurants to in-person restaurants, casinos and other businesses, but predates her broader stay-at-home order issued on Monday.
Nationally, more than 3.2 million Americans filed for unemployment insurance benefits last week, according to seasonally adjusted federal data. This was more than four times the previous record of 695,000 initial claims in October 1982.
Michigan claims rose 123,960 from the previous week, the seventh highest increase in the nation. Pennsylvania led the nation with 378,908 claims, up from 363,469 the previous week. California, Massachusetts, New Jersey, Ohio and Texas also saw larger spikes than Michigan.
Patrick Anderson, head of the Anderson Economic Group in East Lansing, called the new claims numbers "shocking" and said they signaled not just a recession, but the risk of a "corona depression" for Michigan and the country.
Last week, his company estimated that up to 1.4 million workers could lose at least two days' pay over the next month and a half.
"A good number of them have already done that," Anderson said Thursday.
Researchers at the University of Michigan predicted last week 155,000 to 400,000 job losses in the state as a result of the pandemic, which was linked to 2,294 confirmed cases and 43 deaths in Michigan as of Wednesday morning.
Whitmer signed an order increasing access to unemployment insurance last week, and a federal stimulus package advanced by the US Senate on Wednesday night includes four months of expanded benefits and an additional $600 a week of unemployment compensation.
The total number of jobless claims — both initial and continuing filings — jumped in every Michigan county last week, according to additional data provided by the state's Department of Licensing and Economic Opportunity.
Volumes more than doubled in Oakland, Kent, Washtenaw, Ottawa, Ingham, Livingston, Gogebic and Branch counties.
In Wayne County, more than 40,000 residents filed initial or continuing unemployment claims for the week ending March 21. That was up from 15,901 requests the previous week, according to the state.
The rush of unemployment insurance claims has sometimes overwhelmed the Michigan website and a call center that residents use to apply for unemployment insurance benefits. Last week, the state shut down physical agents to prevent the spread of the virus.
The Michigan Unemployment Insurance Agency recommends users file unemployment claims online during off-peak hours, between 8 p.m. and 8 a.m., to avoid slow web service.
Additionally, the employment agency warns applicants to expect longer load times and to avoid reloading pages that may take "several minutes" to load.
"While an unprecedented number of calls and clicks have tested the system, especially during peak hours, we want to assure the people of Michigan that the system is providing emergency financial assistance," UIA director Steve Gray said Wednesday.
Residents can file claims by phone at 866-500-0017, but Gray warned that due to the huge volume of calls the state receives, callers may get a busy signal.
Grand Rapids' Jimmy Floyd said Thursday he spent four days trying to apply by phone and online after being fired from a "high public contact" job he declined to disclose.
"The website is crashing," Floyd said, describing several error messages he received and a busy tone or automated message he received on the phone.
Frustrated, Floyd went to a physical unemployment insurance office on Wednesday, but was turned away by a security guard. He said he also tried calling the governor's voter services hotline, but got no response.
"All I want is someone to come back to," he said. "We can do better than that."
RESOURCES: