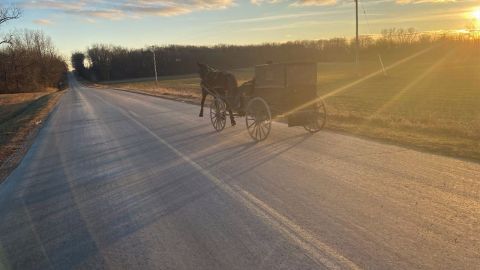 Michigan County threatens to bulldoze Amish homes in poo dispute
In 2015, the Sierra Club Michigan Chapter released a report that found that large factory farms in Lenawee County as well as those in an Ohio county were the top producers of manure in the watershed that drains into the western basin of Lake Erie. It also found that between 2008 and 2015, Lenawee County was home to CAFOs with the highest number of environmental violations, 67, and illegal discharges, 37, in the watershed.
A group called Environmentally Concerned Citizens of South Central Michigan — which monitors CAFOs in the Lenawee County area — has noted dozens of violations over the years by CAFOs in the county.
"We don't support pollution by anyone, whether it's a failing septic tank, a small farm or a CAFO," said Pam Taylor, an activist with the group.
"CAFOs are much worse, absolutely, because of the amount of their animal waste."
But Taylor added that she also opposes Amish farming practices – citing the disposal of human waste on the land – and said they should be banned from doing so.
"Put human waste on the land is a problem," she said.
Regarding oversight of CAFOs, Lenawee County Administrator Marshall noted that it's the state's job to regulate agriculture — not the county's. Indeed, the state cited major Lenawee farms for alleged manure violations, including an operation 20 miles north of the Amish settlements for dumping thousands of gallons of liquid manure in incidents in 2010 and 2015.
The county, Marshall said, is obligated to enforce health codes relating to the disposal of waste produced by people.
"We don't have any authority when it comes to these operations (CAFO). We don't have a huge duty there. Where we have a duty is where it's related to human waste.
Marshall said he was not aware of any specific data — such as samples from streams near Amish land — that documents the health or sanitation risks to the wider community from the Amish outhouse waste.
Abandon the modern world
According to the Bishop, most of the Amish in his church community moved to Lenawee County from neighboring Hillsdale County in 2015, looking for space to farm. A community of around 150 people, they are clustered within nine miles of each other on farms in the southwest corner of the county. They raise corn, oats and pumpkins as well as calves for the outdoor cattle farms.
They are among about 16,000 Amish in 50 colonies in Michigan, according to the Young Center for Anabaptist and Pietist Studies at Elizabethtown College in Pennsylvania. Their numbers have soared 45% since 2010, making Michigan the sixth most populous Amish state.
The first Amish came to America in the early 18th century to escape religious persecution in Europe and find land to cultivate. Their number stemmed from a schism in the Anabaptist church by supporters of Jakob Amman, a Swiss minister who believed adherents should "let go of the world" as much as possible in their daily lives.
"We believe in it because we want to go to heaven," the bishop told Bridge.
Bearded, with round metal-rimmed glasses, he was dressed in plain black trousers, suspenders and a blue shirt, just like another man in the house that day, the community minister. Their wives wore long black dresses and white bonnets which are traditional in this sect. Extinguished kerosene lanterns rested on a shelf above his head, above which was a wind-up clock.