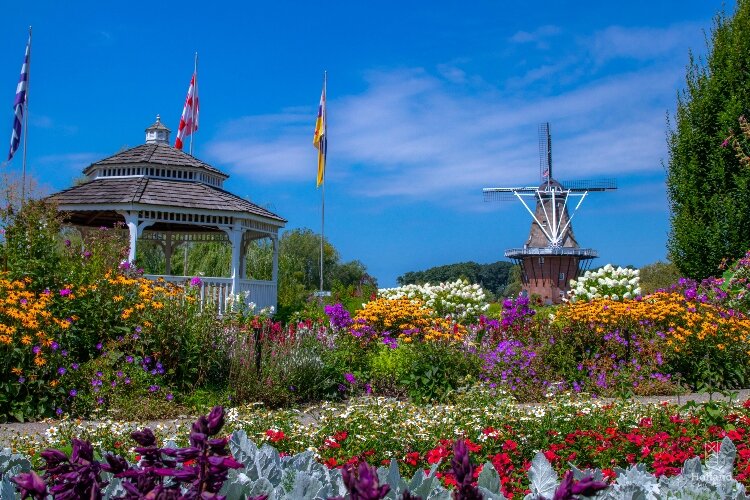 Michigan State University and Windmill Island Gardens Partner to Offer Gardening Classes
A budding new partnership between Michigan State University Extension and Windmill Island Gardens will allow lakeside residents to not only learn about pollinators in a new exhibit garden, but also enjoy free Smart gardening lessons offered throughout the season. Classes will be taught by Rebecca Finneran, Senior Horticulture Educator for MSU Extension, and will cover a variety of topics. Although the courses are free, registration is compulsory and limited to 60 people. For more information and to register, visit programs.windmill.island.com.
The newly renovated 'Vlinder Veld' (Butterfly Garden) will feature dozens of new pollinator-friendly plants to feed butterflies, native bees and beneficial insects. Composed of a wide variety of flowering plants, the garden will explode with color from spring to autumn.
"Perfect partnership"
Rather than build a show garden from scratch, MSU-Extension approached the city park, seeking a partnership along the Lakeshore, says Matt Helmus, director of development for Windmill Island Gardens.
Windmill Island Gardens created the "Vlinder Veld" a few years ago, but with the COVID-19 pandemic and staff changes, backed off plans for a little while, Helmus says.
"It has been a perfect partnership. They have the knowledge and we have the space," he says.
The first course – Smart Gardening for Pollinators – quickly filled up. In fact, twice as many people signed up as there was space, says Helmus.
"The response has been overwhelming," he says, adding that the city is hoping to find a bigger venue to accommodate more people to match the response.
Two other courses are planned this year:
July 19 – Garden Sized Trees – Explore trees that will adapt well to any garden space.
September 28 – Smart Gardening with Bulbs – Explore a rich palette of bulbs to enrich the color of your garden all season long.
Smart gardening
Classes will focus on a larger goal known as Smart Gardening, which is MSU Extension's campaign to share earth-friendly messages and help gardeners make smart choices in their own backyards. MSU Extension's master gardeners will be sharing smart gardening tip sheets with thousands of guests at Windmill Island Gardens throughout the summer. Topics include intelligent plant breeding, soils, vegetables and more. This partnership is sure to inspire gardeners across West Michigan and play an important role in supporting valuable pollinators.
Windmill Island Gardens tries to promote three main areas: its links to Dutch history and heritage, its gardens and its natural setting. For a long time, says Helmus, people only knew about the Dutch component of the city park. Staff work to educate the public about all aspects of the park.
A garden oasis on the edge of downtown Holland, Windmill Island Gardens features over 36 acres of gardens, seawalls, canals, an antique Dutch carousel, children's garden, gift shop, Posthouse Visitor Center – an exact replica of a 14th century roadside inn, over 100,000 tulips that bloom each spring and dozens of varieties of annual and perennial plants and flowers. The centerpiece of the island is "De Zwaan" (The Swan) Windmill, built in the Netherlands in 1833 and brought to Holland, Michigan, in 1964.
Windmill Island Gardens are open year round. Residents of City of Holland can enter the city park on the island for free. Admission for non-residents is $12 for adults and $6 for ages 3-15.