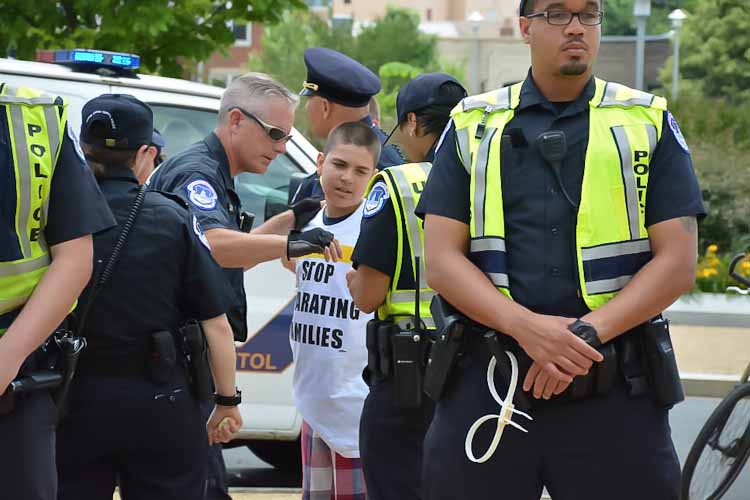 Michigan United celebrates relief for local woman, focuses on work ahead
When Rejoice Musa immigrated from Nigeria to the United States five years ago, her home country had yet to be invaded by terrorist extremists who use sexual violence against young women and horrific attacks on civilians like favorite weapons.
It wasn't until several years after immigrating to the United States that Boko Haram became a household name when they kidnapped hundreds of school girls in Chibok in 2014, sparking a global uproar.
Amnesty International says Boko Haram has "committed war crimes and crimes against humanity with impunity", and they say the terrorist actions have "crippled normal life in northeast Nigeria". In fact, since 2009, they have killed thousands, kidnapped at least 2,000 and forced millions to flee their homes as a result of the violence. Rejoice's family are among those fleeing violence at home.
Rejoice came here, legally, on a student visa, but lost her legal status when she had to suspend her studies a few years after her stay when she became pregnant and gave birth to her son. She has since graduated with honors and works for one of the largest companies in Kalamazoo. But since losing her status, her life, like that of the 11 million other undocumented migrants living in the United States, has been fraught with uncertainty.
Deferred Action for Parents of Americans (DAPA) is an executive order issued by President Obama a year ago. The program has offered relief to 4.5 million parents of American children, like Rejoice, by putting them at the top of the deportation priorities. And for a few months, Rejoice found relief on DAPA. She was issued working papers and told that, as long as she did not commit any crime, she would be allowed to stay.
That all changed earlier this year when DAPA was contested by 26 states, including Michigan, which argued the order was a presidential override. A federal judge sided with the states, preventing the order from continuing. Even though Rejoice's home province is plagued by terrorist violence, and she and her son would surely be targets given her Western upbringing and single motherhood, she had previously been denied asylum. Suddenly and without warning in mid-November, she was fitted with an ankle tie and received an eviction notice. On December 2, she – with or without her son – would be placed on a plane to Nigeria.
Tragedy is normal
Michigan United is organized around immigration, mass incarceration, affordable housing and child care, and civic engagement. They have offices in Detroit, Kalamazoo and soon, Grand Rapids. They helped organize support around Rejoice's case, and they know that the tragedy of Rejoice's story is the normality of this situation.
Allison Colberg is Deputy Director of Michigan United. She says that in addition to cases like Rejoice's, there are 11 million people living in this country who are fleeing things like poverty, violence and lack of economic opportunity in their home countries. She says that even though they work hard, provide for their families and contribute to their community, they still live in fear every day – "you know, parents walk through the door thinking, 'Do I? will come back tonight? »Children who go to school thinking," Will my parents be here tonight? ""
A lot of people think it's easy to immigrate to the United States legally, but Colberg says it's not and the rules are very strict, especially if you're trying to come from a non-country. European or developing country. Asylum cases are even more difficult to find. "An asylum seeker is someone who for some reason feels they cannot stay in their country for fear of putting themselves in danger. The guidelines are very strict. It is difficult."
Colberg has worked with scores of immigrants, like Rejoice, who have been repeatedly denied asylum, even though returning to their countries of origin would likely result in their deaths. Colberg talks about a Chinese woman backed by Michigan United. Although she was a victim of human trafficking, trafficked by her father, who told her: "If you run away from them, I will find you and I will kill you", she was refused permission. asylum on several occasions. Michigan United campaigned around her case, and public support and advocacy saved her from deportation.
Rejoice in the temporary victory and the need for reform
Public campaigns are often an intervention of last resort that can save some immigrants from imminent deportation. But, they don't always work, and they're often a temporary fix.
In Rejoice's case, thousands of community members rallied to sign a petition issued by Michigan United, and hundreds called the National and National Office of Immigration and Customs Enforcement (ICE) to request a stay in her name. Senators Peters and Stabenow also stepped in, and upon registering for immigration a week and a half before his scheduled departure, he was offered a six-month stay. A victory, although temporary.
The Obama administration has started an appeal process with the Supreme Court asking it to overturn the lower court's decision and let the administration begin implementing its DAPA program. But until the Supreme Court overturns the lower court's injunction, immigrant parents like Rejoice will have no option to stay in this country.
And time is running out. Colberg says the case would need to be heard in a month or two for a decision to be made during the current presidential term. And that's imperative, because the program could be eliminated by the next person to occupy the Oval Office.
"(DAPA) is really about our core value of families and keeping families together, and what families go through to provide for those they love," Colberg said. "And there are also so many talents and abilities that people are unable to donate due to their legal status not allowing it … a program like this will (rejoice) to stay and contribute to this country. . " Colberg says it would be a gift to her, her community, and the United States.
Day of action and celebration
Last week, Thursday, on Human Rights Day, human rights organizations and individuals used the pressure of the day to put pressure on the United States Supreme Court, asking it to take immediate action on the DAPA appeal.
On the same day, Michigan United celebrated victories, like the case of Rejoice, and many more at its fundraiser and annual celebration, "Together We Rise," which took place at the Arcus Center for Social Justice. Leadership. One of the other big local success stories they celebrated was the Housing Victory. Colberg beams as she explains, "Residents of Kalamazoo County voted to impose themselves to help provide housing for homeless families" – an initiative Michigan United has been working on for 13 years.
Colberg says Michigan United's work is based on the question, "Why? Why do so many people suffer from this problem? Why are so many families in the school system homeless? Why do so many of our African American community members end up in jail? Why are their suspension rates different? It's hard and uncomfortable work, "she says," but so necessary. We rely on community members to invest in their values ​​by supporting this work with their finances.
You can find more information about Michigan United and the ways you can support their work by visiting their website.
Kathi Valeii is a writer, speaker and activist living in Kalamazoo. She writes about gender-based oppression and comprehensive reproductive rights on her blog, birthanarchy.com.