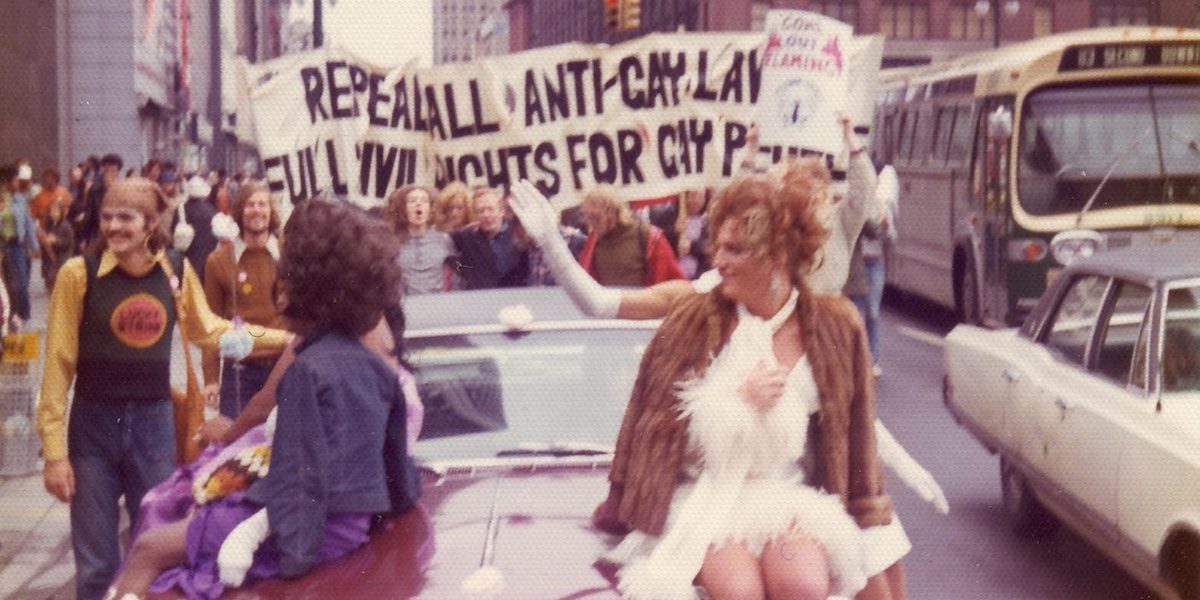 MSU Faculty Recount Pride History | MSUToday
In October, MSU recognizes LGBT History Month, a celebration of lesbian, gay, bisexual, and transgender history, and the history of related civil rights movements. For a list of LGBTQIA+ resources, visit gengen.isp.msu.edu Where gscc.msu.edu.
Tim Retzloff, Professor of History and LGBTQIA+ Studies.
While he was young at the time of the event and not present, Tim Retzloff, now a professor of history and LGBTQIA + studies at MSU, wanted to honor this occasion for his birthday.
Retzloff is an Assistant Professor in the Department of History at the College of Social Sciences and a faculty member at Center on Gender in a Global Contextor GenCen, in international studies and programs.
Retzloff researches lesbian, gay, bisexual, transgender, questioning or queer, intersex, asexual, and other stories. He collaborated with artist Isabel Clare Paul to create "Come Out! In Detroit," a 32-page comic commemorating the celebration.
The book is based on eyewitness accounts, oral histories, diaries, organizational minutes, and other publications from that time. All of these elements helped tell the story of the celebration and the events that preceded it.
1972 Miss Capital City drag queen performer at Joe Covello's bar in Lansing. Photo by Greg Kamm.
Retzloff and Paul were motivated to create the comic because it served as a key moment that inspired early gay activism on campus.
"A lot of contemporary people never knew there was a pride that far. Part of it is that some of the people involved moved away, some ceased to be active, some of them died during the war. AIDS epidemic or some other intermediate cause," Retzloff said. "So that was a story waiting to be told."
Through their research, the two found many notable people who were crucial in making the march happen, including Mike Scott, aka Aretha, who led the march.
Scott had won the Miss Capital City pageant at the bar of Joe Covello, a stalwart of Lansing's gay community, sponsored by the MSU Gay Liberation Movement. GLM is one of Michigan's oldest lesbian, gay, bisexual and transgender groups, founded in the early 1970s. Scott got on the hood of a car at the very front of the march and played dance . During this time, Scott worked at a restaurant in Lansing and later worked as a chef at the Shaw Hall cafeteria on campus.
The 1972 contestants pose with Miss Capital City winner Mike Scott, front row left. Photo by Greg Kamm.
Scott is one of many notable people who played a significant role in the march and were part of the MSU community. But, like Scott's story, they were hard to find because most of the information was not online.
One perspective that had been buried in the MSU archives came from Elyse Eisenberg, a student at MSU at the time.
Eisenberg was a member of GLM, which helped get things off the ground for LGBTQIA+ activism on campus. The group, now known as the Alliance of Queer and Ally Students, even helped East Lansing become the first city in the country to ban discrimination based on sexual orientation in hiring in town.
Comic strip of "Come Out! In Detroit" based on research by Professor Tim Retzloff. Artwork by Isabel Clare Paul.
One of Eisenberg's roles was to transport activists by bus. This allowed more people to get involved by empowering them to attend meetings, demonstrations and other events.
Eisenberg's story doesn't appear in the comic because the interview didn't take place until after it was published, but revealed how much LGBTQIA+ history has been lost.
Retzloff used a variety of archives and collections for his research, including MSU Libraries LGBTQ+ Resources in Special Collections. Special Collections began collecting gay and lesbian materials in the 1970s through the work of bibliographer Anne E. Tracy, who contributed to its early research.
Miss Capital City Scott riding on the hood of a car at the Detroit '72 Christopher Street Pride Walk. Photo by Greg Kamm.
"I remember she came up to me and asked me what I was looking for. I didn't want to tell her because I assumed she was anti-pride," Retzloff said. "It turned out that she was the LGBTQIA+ bibliographer and was responsible for Michigan State being among the first university libraries to begin collecting LBGTQIA+ material."
"I'm very grateful to have learned and shed some light on this part of our history, which has been marginalized and rarely captured by other documents that we usually rely on," Retzloff said.
Retzloff will teach a course in advanced women's studies in the spring of 2023, titled Doing Queer Histories, which serves as the capstone course for the minor in LGBTQ studies offered by GenCen.