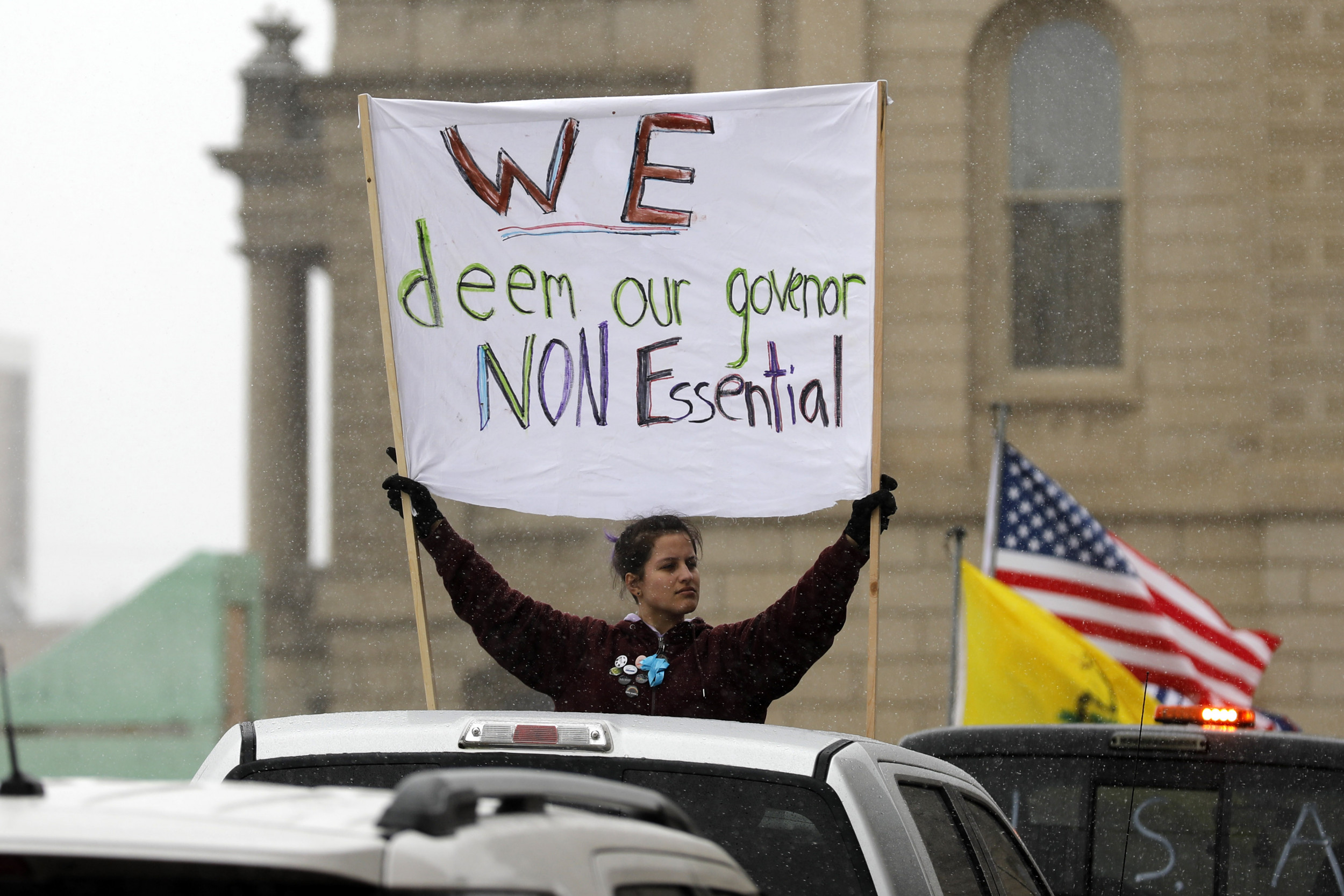 Republican-led Michigan County invokes Boston Tea Party, tells residents to ignore COVID restrictions
In Alcona County, Michigan, the Board of Commissioners is pushing back on restrictions mandated by state officials to slow the spread of the coronavirus.
The board, which consists of four Republican commissioners and a fifth who cites the far-right Constitution Party for its political affiliation, unanimously passed a resolution late last month to objecting to virus mitigation procedures. On Tuesday afternoon, the resolution appeared on the agenda of a meeting of the council of commissioners in Muskegon County, about 250 miles to the west.
He called on Michigan state leaders to defer to the Alcona County health official for decisions about local COVID-19 measures and pleaded for residents' contempt against current orders if the processes remain as they are. Gary Wnuk, the Alcona County commissioner who drafted the resolution, referenced the Boston Tea Party in arguing for citizen resistance to government directives.
"We are not advocating the reversal or abolition [sic]but if these practices continue, civil disobedience and ignoring the excessive and oppressive executive orders that have been inflicted on our citizens, like the Boston Tea Party, which respected the freighters but not the cargo itself," says the resolution.
The Boston Tea Party was a political demonstration that took place in Boston Harbor in 1773. Colonists frustrated by taxes imposed by the British Parliament without their consent threw nearly 350 crates of imported tea into the water.
Alcona County's resolution argues that public health restrictions applied to Michigan's Region 4, a group of state-designated counties, are unnecessary, given its coronavirus statistics. Of the county's 10,000 residents, 37 residents tested positive for the virus on Wednesday and two died.
In addition to the commissioners' resolution, health officer Denise Bryan sent a letter to Michigan Governor Gretchen Whitmer on August 5 asking her office to reconsider Alcona County's regional classification. Bryan specifically asked the state to move Alcona County to a nearby area with less stringent coronavirus regulations, particularly around reopening schools.
"All counties [within Bryan's jurisdiction, including Alcona] are rural and have struggling economic development issues, including 'broadband desert' issues, particularly in Alcona and Oscoda counties," Bryan wrote in the letter, which Craig Johnston, a Alcona County Commissioner, sent to Newsweek Thursday.
The health worker noted that creating safe school reopening plans is "particularly difficult" for officials in these two counties because the programs are aligned with those in other counties that fall under less restrictive designations.
Whitmer has taken one of the nation's most aggressive approaches to coronavirus mitigation, both in terms of the state's initial stay-at-home order and its subsequent stimulus package. Whitmer has faced public backlash for her mitigation orders throughout the state's outbreak, with residents protesting health regulations and criticizing her leadership. The state describes the trajectories of the virus in areas belonging to Region 4 as "improving" and they are subject to Phase Four recovery guidelines.
All counties in Michigan, except those in the upper peninsulas of the state, currently fall under the Phase 4 designation applied to Alcona County. The guidelines require residents of these areas to wear face masks, impose limits on social gatherings and regulate certain commercial activities as well as in-person education.
Michigan has confirmed nearly 120,000 positive coronavirus cases statewide since the pandemic began in March, according to the Johns Hopkins University tracker. Of those who tested positive, around 6,880 people died of COVID-19, the respiratory disease.
Newsweek contacted Whitmer's office for comment, but did not receive a response in time for publication.