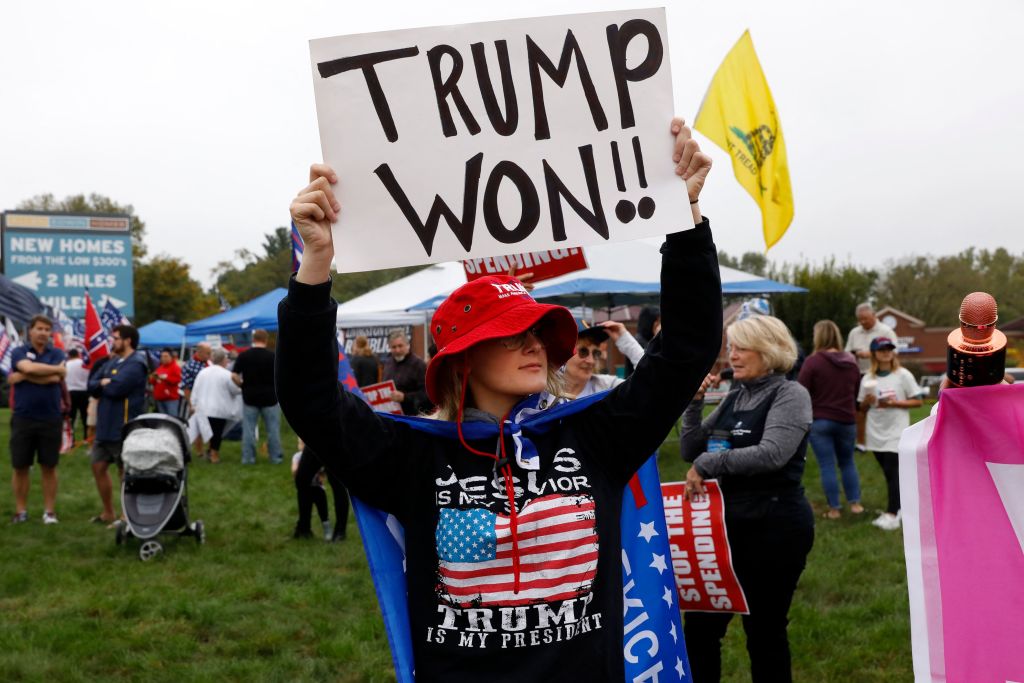 Republican official says there's no 'interference' in election after Michigan County forensic audit
A Michigan Republican county clerk said there was 'no evidence' of outside interference in the 2020 presidential election after a forensic audit was conducted and the results reported this this month.
Former President Donald Trump and many of his conservative allies continue to falsely claim that President Joe Biden won the election due to widespread voter fraud. While no evidence has emerged to support the claim, Republican-backed audits have been conducted across the country, including places where Trump beat Biden.
Macomb County in Michigan – where Trump beat Biden 53% to 45% – this month concluded a forensic audit of its election equipment. The county's GOP clerk claimed everything had been checked, the MLive news site reported Thursday.
"I'm very comfortable saying that the software and tabulators are working as they were supposed to," Macomb County Clerk Anthony Forlini told MLive.
In a Jan. 5 memo, Forlini revealed the results of the audit. In it, the clerk explained that "we learned that there was no evidence of outside interference in our electoral server, our electoral software, as well as our modem communication systems".
Forlini also wrote that "no evidence of malicious internet connectivity was found". He added that "no evidence of malicious or unexpected activity was detected on the systems."
Trump allies, such as My Pillow CEO Mike Lindell, have repeatedly claimed that voting machines were hacked during the 2020 election. Lindell alleged that China was behind the non-existent cyberattack , but cybersecurity and election experts have repeatedly debunked his false claims and the so-called evidence he presented. Audits and reviews, like Macomb County's, have found no evidence of malicious cyber activity.
Forlini previously said he had no reason to believe the Macomb County election results were inaccurate, The Detroit News reported. But he said he wanted to do the audit "to establish all the best practices for good and clean elections". The Republican official also plans to take further steps to "improve the overall integrity" of elections in his county.
In October, Trump issued a statement criticizing Republicans in Michigan for not fully backing his false claims about the 2020 election. He also specifically demanded an audit in Macomb County, though he beat Biden there. .
"Why don't they give the respected professionals and representatives at yesterday's rally the right to do a forensic audit of Wayne County (Detroit) and Macomb County?" the former president said at the time. "This includes RINOs in the State Senate and House who, for whatever reason, are simply filibustering instead of seeking the truth." RINOs is an acronym for "Republicans in Name Only".
Multiple audits and reviews in Michigan have reaffirmed Biden's victory over Trump in the state. The president defeated the former president by a sizable margin of over 150,000 votes. Although Trump narrowly won Michigan in 2016, Democratic presidential candidates had previously won the state in every election since 1992.
Last June, a review of the 2020 election by Michigan State Senate Republicans found "no evidence of widespread or systematic fraud" in the results. This examination was thorough and lasted eight months.
"I am confident in asserting that the results of the November 2020 general election in Michigan have been fairly represented by the certified and audited results," said Sen. Ed McBroom, a Republican who chairs the Senate Oversight Committee, in a statement following the completion of this review. completed.
Similar audits and reviews in states and counties across the country, including many places where elections were overseen by pro-Trump Republicans, have consistently reaffirmed the 2020 election results. Nonetheless, Trump continues to insist he lost because of a "rigged" election.
More than 60 election challenge lawsuits in state and federal courts filed by the former president and his supporters have failed. Even 10 judges who had been appointed by Trump spoke out against the legal challenges.
Former Attorney General William Barr, who was widely considered one of the most loyal members of Trump's Cabinet, has drawn criticism for asking the Justice Department to investigate post-election fraud allegations of 2020. However, he claimed in December 2020 that there was "no evidence" of widespread fraud that would change the outcome of the election.
The Department of Homeland Security's Cybersecurity and Infrastructure Security Agency, while still headed by a Trump appointee, described the 2020 election as "the most secure in American history." The federal agency explained that there was "no evidence that any voting system has removed or lost votes, altered votes, or been compromised in any way."
Newsweek contacted the Macomb County Clerk's Office for further comment, but did not hear back before publication.