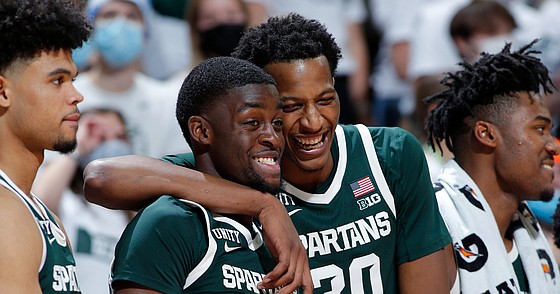 Team-satisfied Michigan State coach Tom Izzo can't wait to see what he has in tough test against Kansas
[ad_1]
After his team's 83-60 victory over Grand Valley State earlier this week, Michigan State coach Tom Izzo said he loved his team and not just because they won a easy victory.
"I really like what I have to work with," said Izzo. "They are good guys and good students.
How good they are as basketball players – and, more importantly, as a team – will be revealed in a few days, when the Spartans face the No. 3 Kansas Jayhawks in the season opener for both teams in New York.
Reunited for the fourth time in the Champions Classic, this time at famed Madison Square Garden, the unranked Spartans enter as a 4.5-point underdog against Bill Self and company. Michigan State leads the Champions Classic series with Kansas 2-1.
Photo
Photo AP / Carlos Osorio
But Izzo seems a lot less worried about who wins and who loses and is more keen on what just playing in the game will do for his 2021-22 Spartans, who have talent, experience and versatility. but still trying to lock in an identity.
"The beauty of these games, like Kansas, is that you can see where you are at," Izzo said after the win over Grand Valley State. "… We are immediately in the fire."
The Spartans just finished a 15-13 season a year ago, which included a under 0.500 mark of 9-11 in the Big Ten game. It was enough for them to squeeze into the NCAA tournament, but it did get the Spartans to secure an 11 seed and a date in top-four games, where they lost to the eventual participant. at the UCLA Final Four in overtime.
The Spartans led by 11 in that game and imploded a little later.
After a pair of exhibition wins, Izzo's squad appear to be locked into a rotation of nine or 10 players. But Izzo would like to see that number reduced a bit and may not have the luxury of going 10 against Kansas.
"(I would) like to reduce it a bit," he said. "I think we have seven right now that are set in stone. What you hope to have is a squad of eight players and then two guys who can come up in (some) situations. I think we are close.
Izzo called his current reality of almost "seven starters".
He started the same five players in the two show wins – Gabe Brown, Max Christie, Joey Hauser, Marcus Bingham Jr. and northeast transfer Tyson Walker – but seems to believe that Malik Hall and AJ Hoggard could also be worthy starters.
Christie, the 6-foot-6 first-year shooting guard who was ranked No. 20 in the 2021 class, led the team with 31 points in the combined exhibition game. But Brown was right behind at 30 and Hauser, the former Marquette star, had 22 points and 15 rebounds in the two wins.
The makeup of the list gives Izzo more programming versatility than it usually has. He showed this in exhibition games by playing his top two pointers (Hoggard and Walker) together and also playing small with the 6-9 Hauser at 5 and tall, with the 6-8, 225 pounds junior Hall at 3 .
Like most of Izzo's teams have been, these Spartans are big and physical and have good length in all five spots on the floor as well. More than that, however, Izzo said this week that he believes his current squad is already better than last year's squad defensively, on glass and in transition.
"We will find out shortly how much better it is," said Izzo. "I watched Kansas last night (and) things are getting a little more real now."
Said Christie of opening her college career to the big stage against a blue blood program in the Big Apple, "It's going to be a really good test for us right now, and we want it. We are ready for the test and we want nothing more than to play the best teams in the country right away. "
——————
Here are some of Izzo's thoughts on his top nine players from an interview he gave to 247 Sports in late October.
On co-captain F Gabe Brown (6-8, 215, Sr.) – "He's one of the best shooters on this team. He improved his shot. He improved his arch. He improved a lot in handling the ball. What he needs to improve is his defense, and he's made some progress, and his rebound, which I think will be two key things in getting him from good to great.
On F Marcus Bingham Jr. (7-0, 230, Sr.) – "He shoots the ball very well when he spots it. I'd like to see him pull more on that hook, it's deadly, that's fine.
On F Joey Hauser (6-9, 230, Sr.) – "He could be the smartest player on my team and he could be one of the best assisters on my team. He's definitely one of the best shooters.
On co-captain F Malik Hill (6-8, 225, Jr.) – "I think Malik is a guy who is ready for a breakout season. He can keep 1 to 5. He got even stronger. He always had a great basketball body. He adapted very well to the game.
On PG Tyson Walker (6-0, 175, Jr.) – "He's a multidimensional child. He has phenomenal athleticism. Not the biggest guy, but can dunk him like you need to. He's a real playmaker. He can pass it, he can shoot it, but he has the athletic ability and he has phenomenal hands. He gets his hands on more balls than anyone else I've had in a long time.
On PG AJ Hoggard (6-4, 210, Soph.) – "He's running our break as well as anyone since Mateen (Cleaves). He passes the ball from A to B quickly.
On G Max Christie (6-6, 190, Fr.) – "He's a bulldog to learn. He's a cinephile. He's a guy who doesn't like it, doesn't like it, he lives the game. A phenomenal student. It has everything and has a deep, deep, deep reach. He can shoot it.
On ground Jaden Akins (6-4, 180, Fr.) – "I think he could be a defensive dynamo. But his attack is much better than I thought. He shoots the ball well. He creates, he can create from the dribble. He's a phenomenal athlete.
On C Mady Sissoko (6-9, 235, Soph.) – "He became more aggressive. He's always been a great shot blocker and he helps us with his strength (and) his muscles. "
[ad_2]