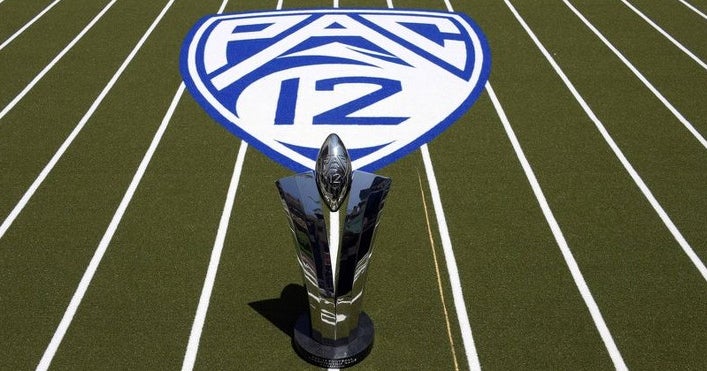 The Michigan State-Washington game will air on ABC
SAN FRANCISCO- The Pac-12 conference today announced the television schedule for the first three weeks of the 2022 football season, in addition to kickoff times and television selections for all "special date" games, covering all Thursday and Friday matches throughout the coming year. For the Washington Huskies, that means their Sept. 17 game with Michigan State will air on ABC at 4:30 p.m. PT.
The UW-Michigan State game was one of five UW TV games announced Thursday. The Huskies' home opener against Kent State on Sept. 3 will air on FS1 at 7:30 p.m. PT. The following week, Pac-12 networks will air the Portland State-Washington game at 1:00 p.m. PT. After the Michigan State game on Sept. 17, the Huskies then announced that the first televised game wouldn't come until Week 5. They will play UCLA on Friday, Sept. 30 on ESPN at 7:30 p.m. PT.
The final, early-announced televised game for Washington will be in Week 10 when the Oregon State Beavers travel to Husky Stadium on Friday, November 4. The match will be broadcast on ESPN2 and kick-off is scheduled for 7:30 p.m. PT.
Pac-12 television partners ESPN, FOX Sports and Pac-12 Networks will provide comprehensive coverage of the entire Pac-12 home football program during the 2022 season. Pac-12 Networks is expected to broadcast 37 home games Pac-12, while ESPN and FOX Sports will combine for 45 games from home and neutral Pac-12 venues, including the 2022 Pac-12 Football Championship Game, presented by 76®, on Friday, December 2 on FOX. That includes nine games on broadcast networks in the first three weeks.
Week One Highlights
ACTION THURSDAY AND FRIDAY: Week one kicks off Thursday, September 1 with ARIZONA STATE hosting its upstate rival Arizona (7:00 PM PT) on the Pac-12 network. The following night, Karl Dorrell's Team COLORADO takes center stage as they welcome former Cal head coach Sonny Dykes to town for their first game with TCU (7:00 p.m. PT / 8:00 p.m. MT on ESPN).
SATURDAY SOUTH: The season kicks off with two huge Pac-12 tilts against SEC, two of the most anticipated college football games of the season. The Dan Lanning era begins for OREGON against his former team, as the Ducks take on defending national champion Georgia in Atlanta at 12:30 p.m. PT on ABC. Defending Pac-12 champions UTAH head to the Swamp to take on Florida (4 p.m. PT on ESPN) in what will be the Utes' first game against an SEC opponent since beating Alabama at the 2009 Sugar Bowl.
TWO MORE DEBUTS: The Lincoln Riley era at USC officially kicks off on Saturday, September 3 as the new Trojans, led by Heisman nominee Caleb Williams, host Rice at 3:00 p.m. PT on the Pac-12 Network. WASHINGTON will kick off Kalen DeBoer's reign under the lights of Husky Stadium (7:30 p.m. PT on FS1) in their first-ever game against Kent State, the former home of UW's winningest head coach, Don James.
BOWLING BEAVS: OREGON STATE just played its first game of bowling in eight seasons. They open the 2022 campaign by hosting Boise State (7:30 p.m. PT on ESPN), the same school the Beavers faced in the 2013 Hawai'i Bowl.
CAP PACKAGING: In addition to the USC opener, Pac-12 Networks is hosting four other games this opening Saturday. Chip Kelly's UCLA team kicks off at 11:30 a.m. PT while Jake Dickert begins his first full season at WASHINGTON STATE at 6:30 p.m. PT to close out the night. CALIFORNIA and STANFORD both start their seasons on the Pac-12 Now / Pac-12 Bay Area app.
SO WHAT SURPRISE? : ARIZONA brings revamped roster to Southern California seeking revenge with San Diego State (12:30 p.m. PT on CBS). Last year, the Aztecs eliminated the Wildcats in Jedd Fisch's home opener in Tucson. This year, Arizona will be looking to spoil SDSU's fun by opening its new Snapdragon Stadium.
Week Two Highlights
OPENING OF THE CONFERENCE ON ABC PRIME TIME: USC and STANFORD will once again open the Pac-12 game against each other and do so in prime time. Action from the Farm kicks off at 4:30 p.m. PT on ABC.
POWER 5 MATCHES: After facing three Power 5 conference opponents in Week 1, the Champions Conference will see three more in Week 2. WASHINGTON STATE travels to Camp Randall Stadium to take on Wisconsin at 12:30 p.m. PT on FOX . ARIZONA STATE and Oklahoma State face off at 4:30 p.m. PT on ESPN2, their first meeting since 1993. ARIZONA welcomes Mike Leach back to Pac-12 territory as Mississippi State arrives in Tucson (8 p.m. PT on FS1).
PAC-12 HIGH FIVE: Five games, a season high, will air on Pac-12 networks on Saturday, September 10. Things start in Salt Lake City at 10:30 a.m. PT / 11:30 a.m. MT with UTAH hosting Southern Utah. UCLA will face an HBCU for the first time in school history with Alabama State coming to the Rose Bowl, Dan Lanning gets his first glimpse of Autzen Stadium for OREGON's home opener, CALIFORNIA hosts UNLV at Memorial Stadium and WASHINGTON hosts Portland State.
MOVE ALL MOUNTAINS: The Pac-12 has two games on the road against the Mountain West foes in Week 2. COLORADO visits in-state rival Air Force (12:30 p.m. PT / 1:30 p.m. MT on CBS) as OREGON STATE takes on Jeff Tedford's Fresno State. crew.
Week Three Highlights
MAJOR OPPONENTS OUTSIDE THE CONFERENCE: For the first time since 1967, CALIFORNIA heads to South Bend to take on Notre Dame at 11:30 a.m. PT on NBC. WASHINGTON hosts Michigan State in Montlake for a game at 4:30 p.m. PT on ABC. COLORADO will look to avenge last year's loss to Minnesota on their trip to Big Ten country (12:30 p.m. PT/1:30 p.m. MT on ESPN2). OREGON hosts BYU at 12:30 p.m. PT on FOX.
HOW THE WEST WAS WON: Pac-12 schools go head-to-head with two top Mountain West schools in Week 3. UTAH and San Diego State will look to top their triple-overtime thriller from last year as the set moves to Salt Lake City (7:00 p.m.). PT/8:00 p.m. MT on ESPN2). USC takes on Fresno State at the Coliseum at 7:30 p.m. PT on FOX.
PAC-12 NETWORK QUADRUPLE HEADER: There will be four games on the Pac-12 network this Saturday with UCLA kicking off at 11:00 a.m. PT. WASHINGTON STATE hosts Colorado State at the Palouse for a tilt at 2 p.m. PT. OREGON STATE plays Montana State in Portland, Oregon at 5:00 p.m. PT while ARIZONA STATE closes the night with Eastern Michigan at 8:00 p.m. PT.
WELCOME TO THE CHAMPIONS: ARIZONA hosts North Dakota State Champion FCS at 8:00 p.m. PT on FS1.
Special Date Highlights
#PAC12FCG ON FOX: The 2022 Pac-12 Soccer Championship Game, presented by 76®, will take place on Friday, December 2 at 5:00 p.m. PT from Allegiant Stadium in Las Vegas for the second year in a row. Featuring a new format with the teams with the two highest conference winning percentages, this marquee game will take place again on FOX (the 2020 title game also took place on FOX while the 2021 title game aired on ABC).
FRIDAY NIGHT ESPN ACTION: During the remainder of the 2022 Pac-12 football season, ESPN Networks will air two more Friday games, including WASHINGTON at UCLA on Friday, September 30 at 7:30 p.m. PT / 8:30 p.m. MT on ESPN and OREGON STATE at WASHINGTON on Friday, November 4 at 7:30 p.m. PT / 8:30 p.m. MT on ESPN2. OREGON at OREGON STATE moves to Saturday, November 26.
FOX SPORTS SPECIAL DATE CHART: FOX Sports is set to televise four weekday Pac-12 games, including UTAH at WASHINGTON STATE on Thursday, October 27 at 7:00 p.m. PT / 8:00 p.m. MT on FS1, COLORADO at USC on Friday, November 11 at 6:30 a.m. PT / 7:30 p.m. MT and a pair of games the day after Thanksgiving. On Friday, November 26, the battle for the Territorial Cup returns to Tucson at 12:00 p.m. PT / 1:00 p.m. PT on FS1. Same day on FOX, UCLA and CALIFORNIA face off at 1:30 p.m. PT. This match at Berkeley will have a terrific intro on FOX, after the USA-England 2022 World Cup match.
In total, over the first three weeks of the season, Pac-12 Networks will air 15 televised matches, all available anywhere to Pac-12 Networks subscribers through the Pac-12 Now app. Of the 15 games, 11 will be broadcast nationally on Pac-12 Network while four games will be available locally in the local team market on the appropriate regional channel from Pac-12 Networks and Pac-12 Now.
ESPN will show Pac-12 football on ABC, ESPN, ESPN2 or ESPNU, while FOX Sports will show its games on FOX or FS1. The two network partners will simultaneously broadcast select games on ESPN Deportes and FOX Deportes.
While the TV selections for the first weeks of the 2022 season have been made, along with all Thursday and Friday games throughout the season, all remaining TV game selections and start times, from the fourth week (Saturday, September 24) and the last week of the regular season (Friday, November 25 to Saturday, November 26) will be carried out 12 or six days in advance.