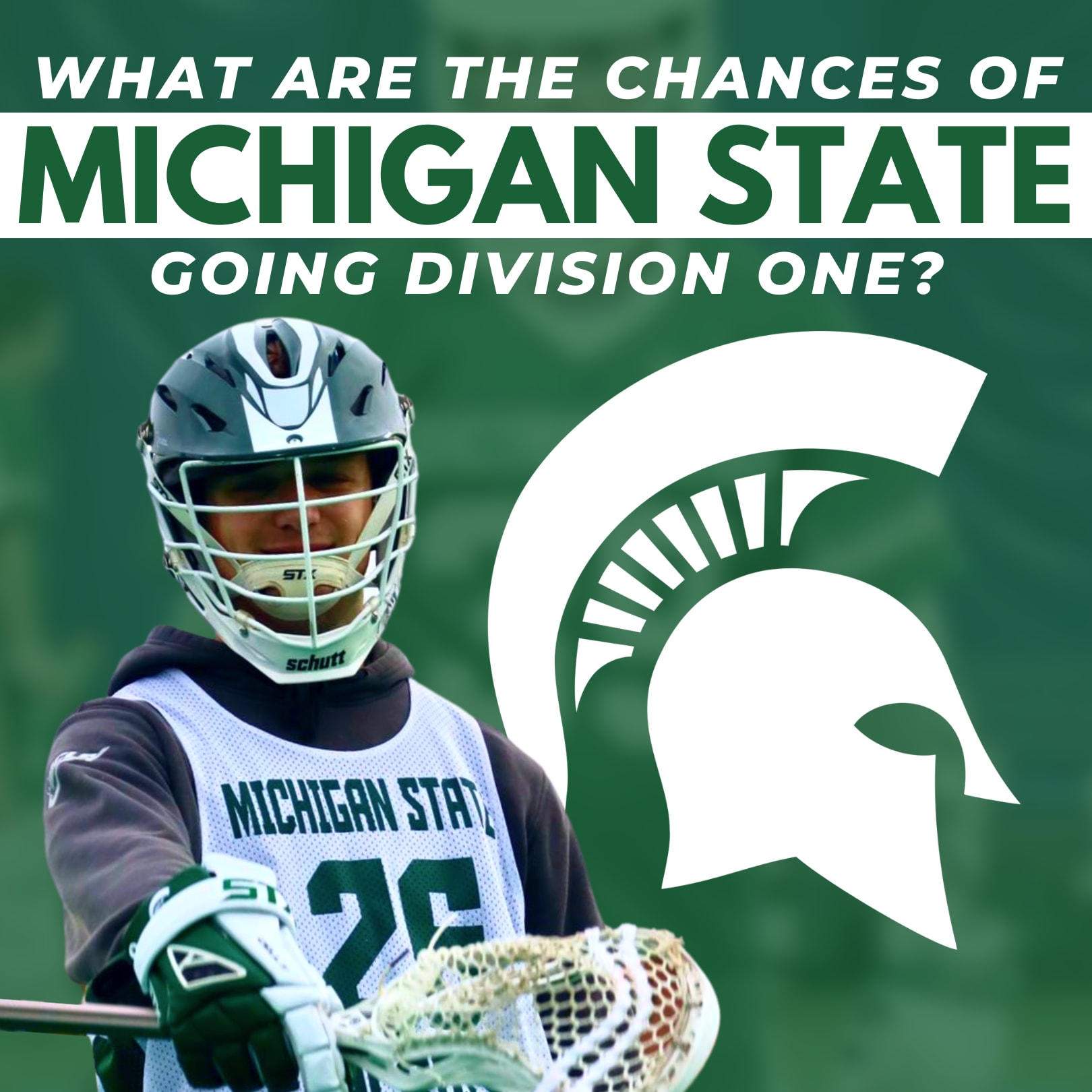 What are the odds of Michigan State Lacrosse advancing to Division 1?
It's been 25 years since Michigan State fielded a Division 1 lacrosse team. The university may have cut the program, but it couldn't take the sport off campus. The team has been one of the most successful club teams in the state, culminating in its 2018 MCLA National Championship.
The program has received some great news recently. They're not quite returning to Division 1 just yet, but the university has announced that it's building a lacrosse-only facility.
We caught up with Spartan alumnus and head coach Matt Holtz about the status of the program and what the future holds for lacrosse at East Lansing.
Can you give us an overview of Michigan State's lacrosse program?
---
We have some pretty solid numbers coming back next year. We have graduated a third-team all-conference goaltender and a first-team all-conference midfielder.
Goalkeeper: We have two young substitutes who will work to earn a place. I trust both of them, but we graduated our third-team all-conference goaltender.
Defense: We have three of the four-man rotation returning, including honorable mention All-American Mathias Biland.
MSL: We have a rotation of three people and one of those three people has graduated. It would be nice to go there with a lot of experience.
SSDM: We return the third All-Conference SSDM team. We should be strong here.
FOGO: We have the best FOGO in MCLA, hands down. Last year, as a freshman, he was an honorable mention All American. He's never gone below 50% in a game and went 65% against UMLC's All-Conference second team FOGO. It is completely dominant there.
O-Medium: We got our best O-Mid but flip Hank Shaban (15g, 13y) and Ryan Murphy (14g, 4y)
Offensive: Return of all of our offenses that saw significant time, including second-team all-conference Connor Hamilton (16g, 16a) and all-conference honorable mention Jon Bickford (13g. 16a)
Last month I spoke with Dylan Sheridan and John Paul on the growth of the game outside of traditional hotbeds like Long Island and Baltimore. You have been coaching for almost 25 years now. Can you highlight the growth of lacrosse in the Midwest since your early days?
---
I started playing in Michigan in 1988. Back then, we were playing 14 games a year, seven home games and seven away games with each of the other teams in the state. My second year saw the start of real expansion when Ann Arbor Pioneer and Ann Arbor Huron were added along with East Grand Rapids and Forest Hills Central.
When I started coaching in the late 90s, most of the really talented players came from the top eight or that first group of expansions in Ann Arbor and Grand Rapids. Seeing legit D1 caliber players coming out of schools like Hartland, Brighton, Midland and Okemos is the real sign that the lacrosse scene in Michigan has come to a pretty good place. I would like to see more big city public schools like Detroit, Flint, etc. launch programs, but that will come with time.
The MHSAA (well at least the coaches) is looking for a place to host the state championship. Michigan State already hosts the MHSAA Baseball Championship, do you foresee a potential partnership with programs in Michigan and perhaps the Midwest?
---
Seating in our new facility may not be what MHSAA is looking for at this time. We are working to make this change hopefully in the near future. I believe MSU also hosts the state basketball championship. The reality is that the area is at the intersection of I-96, I-69, and US 127, making it very accessible from across the state. I would love to see something like this happen.
You had great success bringing another Michigan program into Division 1 while earning a tournament bid and making the Irish uncomfortable in that first-round game. Can you talk about that transition from moving to a D1 program to winning at MAAC?
---
I still have fond memories of Denver Airport after the 11th straight loss that ended the first season. The following year, we won three matches. The year after, we did the MAAC championships. Detroit was in a great location with easy access to Michigan's best programs. It is a Catholic school that has been very popular with Detroit Catholic Central and Brother Rice. I got good at finding talent across the river in Ontario and Chris Kolon got good at Long Island. These factors led to an excellent end to the 2013 season.
Can you give us an overview of the new lacrosse facilities? How did it happen? Funding? Where will it be located?
---
The new facilities have been preparing for a long time. Funding comes from the IM/Rec athletic department that our MCLA team reports to. A few years ago the new president decided that our MI/Rec sports facilities needed a major update. Previously, the IM department was funded primarily by selling access to the weight room to students. The University decided to remove this fee for using the weight room and instead added a recreational sports fee to each student's bill.
This is driving our new facilities and also the construction of a new IM building on campus. The new facility will have two lined full-size grass fields for men's and women's lacrosse as well as soccer. There will be permanent restrooms, a storage facility for Lax programs as well as an on-site classroom (aka our locker room). The ground is managed by the sporting director of the club whom I have known since my days as a player in the mid-90s.
How will the new facilities impact the future of Michigan State lacrosse over the next 5-10 years?
---
In the short term, this solves a fairly significant field space problem. Previously, we shared the field hockey stadium with the women. We didn't have access until 7:00 p.m., so a few nights a week we were training from 9:00 p.m. to 11:00 p.m., which is difficult for coaches who have to get up in the morning to work. Most people don't know that MSU has a second club lacrosse team that competes in the GLLL. They practiced from 11:00 p.m. to 1:00 a.m. It's hard.
In the long run, I don't see how it can't be a draw for players who are thinking of going down to the D1 level but can choose us over schools like Detroit or Cleveland State because they want to have that feeling of Power 5 school. A lot of players transfer to MSU from schools like that. It's a ton of fun to be at a school with potential conference football and basketball championships. This setup will make that decision a little easier for those high-level players.
Michigan State had a Division 1 lacrosse program until it was terminated by the university in 1997. Can you discuss the challenges and potential opportunities of returning the Spartans to Division 1 lacrosse?
---
It was hard. I had just graduated. This whole process was botched and the players felt a ton of resentment towards the school. It took years of coaxing and working with this era of players to get them back on board and supporting the program. I've talked about it with John Paul in the past. A school like MSU needs three things to start a men's lacrosse program.
A sister program, to most major schools, this program is Women's Lacrosse. For us, it might be women's ice hockey if we ever get to that point. The hockey program at MSU is well funded and organized as a men's lacrosse program.
A voluntary AD. There's a lot on the mind of the athletics department right now, including the changing landscape of major college conferences, and quite honestly, dealing with the fallout from Larry Nassar. They're not even in a position right now to consider the idea. I have friends in this department and my wife is on the faculty athletics board, so we have good ears. Also, Mel Tucker's son is a pretty solid lacrosse player, so maybe we can build on that.
Lastly is the money, we are blessed with probably one of the best nest eggs in all of MCLA. We have a high six-figure endowment that provides us with five figures of interest income each year. The reality is that we need to go from a high six-digit number to a low eight-digit number. Michigan did it with very wealthy donors. We don't quite have it yet, but we're working on it. Shameless plug, if you are looking to help grow Michigan State's men's lacrosse program, you can visit our website at msulacrosse.com and click on the donate link.